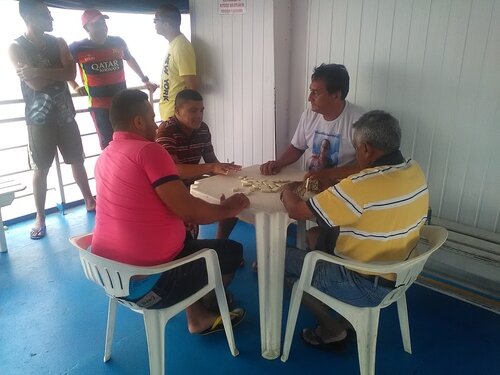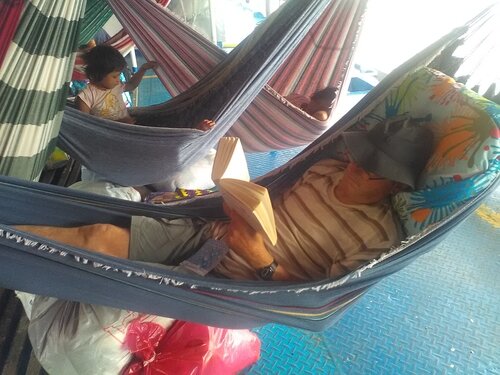 A joyous carry on on this ferry which chugs over 1000 km up and down between Belem and Manaus each week.
We took a small boat, not the 850 strong « comfortable » Costa contenders. But we still have three decks.
First deck and hold for cargo. Six hours late leaving Belem thanks to the interminable ballet of a dozen or so dockhands, loading all manner of goods and packages. Large white bales (clothes ?), lorryloads of boxes and crates of fruit and vegetables, two motorcycles, many thousand packs of beer.
All loaded one by one by hand, or head, or slid down a plank. It's the dry season, so the dock is about 8 metres higher than the water level. At one of our five stops several thousand broom handles were squeezed into any remaining space.
On the middle deck embarking passengers hang their multi-coloured hammocks in an increasing crisscross, which sway into each other as the boat moves along. Under the hammocks are their various bags and boxes, their own stuff, and things to sell up river. It's all in the open air, so as soon as a downpour starts the crew rush to roll down plastic blinds.
98% of the passengers opt to bring their hammock, rather than pay much more for a (very) basic tiny cabin with even tinier rusting bathroom. We took both ! Great to relax in the hammock during the day, but chilly at night.
On this deck there are mostly families, next to our hammock the poorest, an indigenous young mother with two cheeky little daughters.
There's the (very) basic cantine on this deck, serving beans and rice at every meal, but most people dig out provisions.
This deck is fast asleep by about 8, and quietly munching breakfast by sunrise at 6.
Not the case on the top deck ! This is where the singles (literally) hang out, where furious games of dominoes go on, each block crashing confidently onto the plastic table, where the bar sells all sorts of sugary drinks and food (as well as beer), and where the loudspeaker booms out until late, but thank heavens only picks up again once the population emerges around 8.30.
No foreigners on the boat except a couple from Guyenne, us, and a pretty Argentine girl who has the males all fluttering around her. She's travelling alone, so swats them away kindly. Other young Brazilian travellers try to sell their wares, the barmaid doubles up as a pedicure… and the boat chugs on !