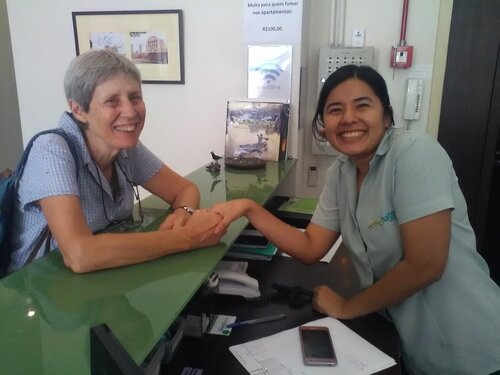 Joyce, our sweet receptionist in Manaus spoke excellent English, as well as several other languages. For your future career in tourism ? No, just to relax… I only work here because it's quiet and cool and I can use the computer all day to study for my exams and save up for university… What do you want to do ? I don't remember the word… I want to cut up people !
Joyce is certain that she'll get to be a heart surgeon, although her grandparents still live deep in the forest. She doesn't want marriage or babies to stop her, and intends to adopt a street child once she's settled.
A different kind of faith and hope in a beautiful glimpse on Sunday night. A packed church, as usual. We left as it was starting and saw a car draw up. Out tumbled an attentive young man and his eager wife, a baby glued to her large exposed breast. An almost biblical scene of saying yes to life, whatever.
We've read and heard a lot of pessimistic remarks on Brazil's problems : race, poverty, the environment, corruption… but it's got so much going for it ! Its population is making an act of faith everyday, so Brasil, Brasil, Brasil !