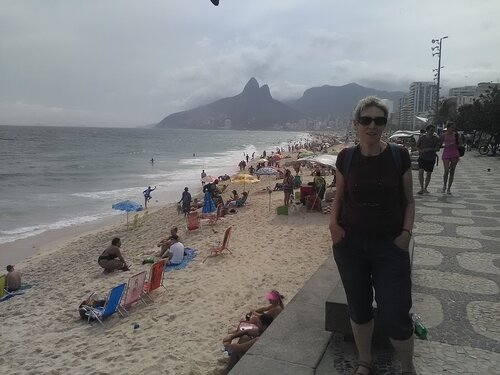 Ipanema is the second beach along, between enormous Copacabana (scene of the Pope's massive rallies in 2015) and the now more upmarket, much smaller Leblon.
We cycled along the whole beautiful stretch (9km long) on a Saturday afternoon, in search of the famous Brazilian bodies.
Was it the coolish wind or the wrong day ? The beaches were pretty full, but we didn't see what we were looking for.
It may be that what we consider the archetypal body and the swagger that goes with it are more fantasy than reality.
The girl from Ipanema is now often quite hefty – obesity is becoming a real problem in the number 1 sugar-producing country.
True, among the matrons (were some of them knitting ?) chatting round the ice box were a few girls in Brazilian bottoms, and with Brazilian bottoms, showing them both off.
Plastic surgery is all the rage, and entitles you to tax reductions (« it increases well being »). I wonder if, as well as breast implants they work on curverture of the spine – twisting it to those painful angles essential for the carnival samba ?